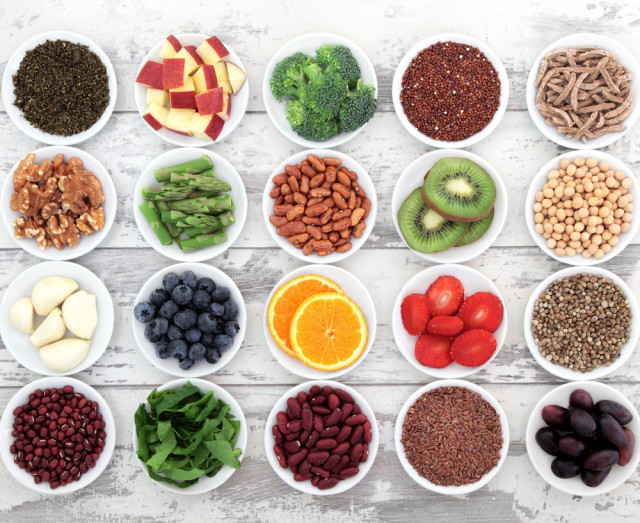 You are what you eat and nourishing your skin using healthy foods can be one of the best ways to achieve a natural glow. As the seasons change, so does our skin. Our skin tends to be the driest during fall and winter leading to chapped lips, cracked hands, and dry skin. I've asked some of my favorite skin experts for the best foods to aid the fall/winter skin dilemma and they've sprinkled in a few of their magical DIY recipes.
1. APPLES
"An apple a day keeps the doctor away" and apparently it keeps dry skin away too. Apples are a wonderful ingredient for your skin.It helps moisturize and exfoliant your skin. Simply cut a slice of apple and apply its juice on your face until the slice dries up. This will balance the oil production in your body. It can also be a great hydrating mask! For those of you looking for anti-aging benefits, Apple Stem Cell is key!
Apple stem cells are extracted from a rare endangered Swiss apple that was widely studied for its remarkable self-preservation qualities. it has shown tremendous ability to rejuvenate aging skin and decrease the appearance of wrinkles. This ingredient helps skin regenerate a youthful and glowing complexion and is perfect for all skin types.
My Pick: Swiss Apple Stem Serum ($29.99)
2. COCOA
Hot cocoa anyone? While hot cocoa is irresistible during the cold seasons, cocoa has many benefits to the skin as well. It's a natural exfoliator that gently polishes the skin and removes dead, dry skin. The cocoa bean shell contains theobromine, a methylxanthine very similar to caffeine. It is well appreciated for its draining and detoxifying actions, as well as its stimulating/energizing power. If you're in search of a gentle and natural form of exfoliation that will also detox your skin, be sure to look for cocoa listed in your facial scrub.
My Pick: Vaseline Body Gel Oil Cocoa Radiant ($7.99)
3. HONEY
Honey is more than delicious; it is incredible for your skin. It's been used in traditional healing for centuries. It has antibacterial properties which makes it great for acne treatment and prevention. It also helps heal your scars more quickly and smoothly. Simple Apply a thin layer of raw honey to slightly damp skin in a circular motion. Leave the honey for 30-45 minutes and then gently rinse it off with warm water. This leaves your skin feeling soft and radiant.
My Pick: Honey Potion Renewing Antioxidant Hydration Mask ($56)
4. BEETS
These bright red root veggies pack a variety of vitamins and minerals and are rarely found in such high concentrations within one food. 
They are really a superfood when it comes to anti-aging because they help to fight wrinkles and skin ailments naturally with folate. They prevent age-related degeneration with vitamin A and carotenoids. 
I love to cut them into quarters, drizzle with olive oil and roast on 425 for 30 minutes. They are also wonderful in juices and smoothies.
My Pick: Tata Harper Resurfacing Mask ($58); contains beet extract
5. ORANGES
I love adding oranges to my smoothies or using them in salad dressings. Oranges are a wonderful source of vitamin C. As you age, your body starts losing collagen and elastin, which keeps skin looking strong and flexible. The antioxidants found in vitamin C stimulate the production of collagen and minimize the appearance of fine lines and wrinkles.
My Pick: Sunday Riley C.E.O. C + E antiOXIDANT Protect + Repair Moisturizer ($65)