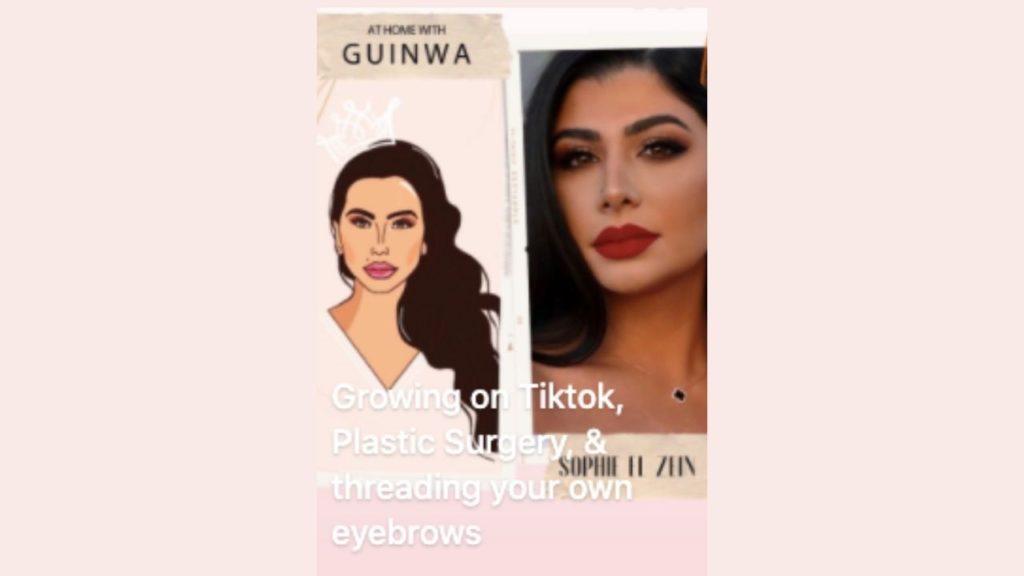 In this episode of At-Home with Guinwa, Guinwa caught up with Sophie, AKA @glam.sophie! From how to boost your TikTok to eyeliner tips and thoughts on plastic surgery, self-love, brand partnerships and even threading your own eyebrows (for real)… here's everything you might have missed from Guinwa's self-care series!
How to Grow on TikTok as a Creator
Guinwa's tip? "No matter what your genre is, make sure to get on TikTok!" Sophie's account got hacked at 70K followers, which she gained just within a month. "But guess what, she didn't just stop there," continued Guinwa, " she started over and she's killing it!" When Guinwa asked Sophie how many videos she posts on TikTok, Sophie replied "my goal is two." So, the lesson to take away? Don't quit, be persistent and keep going!
Self-Love
According to Sophie, "when you love yourself, you will view life so much differently and so much better." Why, you ask? "Because when you put yourself first, no one else matters." So, take it from Sophie and learn to love yourself and putting yourself first!
Plastic Surgery
"I have nothing against plastic surgery," Sophie says. "I have done my nose and I'm going to do my nose again because I don't like it how it turned out. If you feel like you want to get plastic surgery, because you feel like it will make you a better person, go for it!" Call it self-care.
Eye-liner Tips
Sophie assures us, "there's no perfect eyeliner, we're all gonna mess up! I still mess up to this day! But my best tip is to start out at the ends. Draw the line up and then connect it."
Brand Partnerships
Guinwa asked the question we all want to know: "if a brand reaches out to you, but they don't have the marketing budget, do you automatically say no?" For Sophie, "it depends." She reasons, "with big, high-end companies, I don't even bother asking. Because for me, I look at it as 'okay, I'm gonna use their products that I already know I'm gonna like. I'll get the products and I'll promote them."
"They're gonna repost me, so that's a different kind of exposure. So, if they repost me, I get a new group of audience and that's also a win. It's not always gonna be money. For me, a win is to have more people listening to my advice. I'm not on Instagram just to make money. I'm here to communicate with people and help them, give them advice and change up their view of makeup."
Adding, "because so many people are like 'wow, you're so much different with makeup', so one thing I'll say is 'look, makeup's expensive. If I do a full on glam, which takes an hour, then I did not spend so much money and time to look exactly the same as I did before."
Guinwa adds, "preach, sister!" And Sophie continues, "when they say that, it honestly makes me mad. You think I'm gonna get ready, spend all this money to look exactly the same? When I film, I don't just film one video. For TikTok, I do my makeup and I do four outfit changes and I'll have them planned out with the skits I'm gonna reenact. And I'll change my outfit, I'll change my hair. I'll change up my look just so I have a bunch of contact just from one day."
Then, the duo caught up in Arabic. "I have an accent in Arabic, but I don't care. I'm still going to speak Arabic!" – Guinwa noted.
A Quick-Fire Question
Three makeup products on a deserted island? To Sophie, "I would take concealer, lipgloss, or chapstick that has a little glow to it and mascara. Because my eyebrows, I don't really need to do them." Guinwa agrees, "your eyebrows are amazing!" Which leads us to…
Threading Brows
The best form of self-care, obviously! Watch the full series and how Sophie threads her own eyebrows here!