We know. The sun is beaming at 86°F, holidays are cancelled and now it's fall already?! Please, someone explain 2020! But not all is gloomy. This season, fall trends bestowed comfy sartorial dressing – placing comfort front and centre. Here are 5 trends you can get on now – while catching the last of summer.
1. The Sexy Knitwear
Remember Katie Holmes matching cardigan and cashmere bra moment? It was perhaps the most visible onset of a trend that soon swept up celebrities… making way to the F/W20 runways. Think Jacquemus' alluring, "je ne sais quoi" knit cardigans, or the barely-there cutout jumpers of Christopher Kane and Monse.
2. Coordinated Sets
Matching loungewear was trending big during quarantine (think Pangaia). But now as many of us return to the office, comfortable sweatpants need to alter to more elevated options. Luckily, a comforting matching set will be on trend thanks to the co-ords of Lacoste,Arthur Arbesser and Carolina Herrera.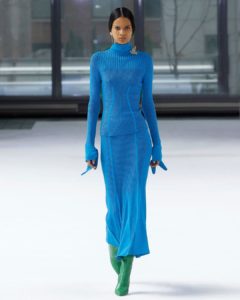 3. Layered Knits
Sweaters for fall? Groundbreaking. Jokes aside, this season's knit selection offered a rather fresh point of view. It's as if brands, such as Bottega Veneta, Jil Sander or Nanushka all looked to the same stay-home future. And soft knits guaranteeing quarantine cozy is something we can get behind.
https://www.instagram.com/p/B88O-cxK2Nm/?utm_source=ig_web_copy_link
4. Slouchy Tailoring
If there's one key fall trend we're happy to greet, it's slouchy tailoring. Meriting the untailored look was Ganni's oversized pinstripe suit, Preen's roomy trousers, the clean-cut lines at Margaret Howell and Gucci's embellished trouser-gloves-pink-satin-blouse ensemble. Tod's offered dolce vita in relaxed tailoring – think boxy camel blazer with loose-fitting pants. This season, nothing says business more than comfy suiting.
Tod's via @tsingapore
5. Puff Sleeves
Thought it was on its way out? You thought wrong. Mega sleeves are (still) here. And the bigger, the better – as spotted with balloon sweaters at Fendi, billowing sleeves at McQueen, puff parade at Rodarte and JW Anderson's pumped-up winter coats. Think XXL sleeves and '80s ruffles galore: and just wear it all.
Which of these fall trends would you try? Let us know in the comments!
Photo: @fendi