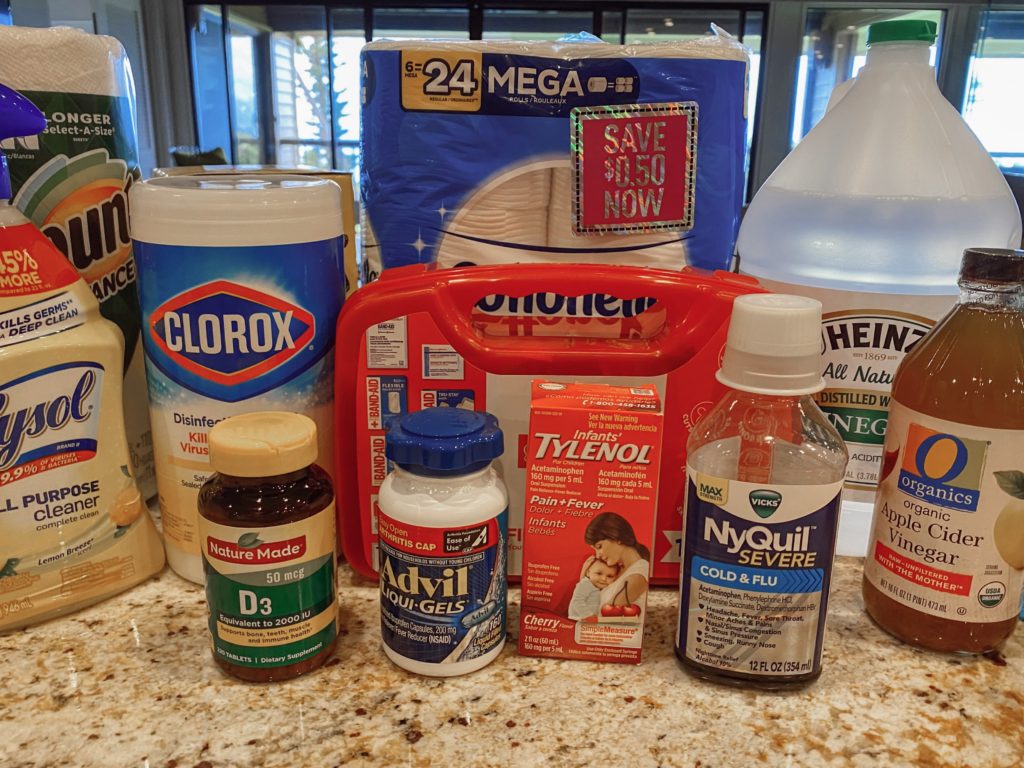 As the coronavirus outbreak continues, I have taken the necessary precautions to ensure my family is staying safe and that includes buying the necessary items for our quarantine time at home. AKA my Coronavirus Shopping List. I bought some of these items from Target and Costco, but for the majority, I have been taking advantage of my prime Amazon membership and purchasing what I need online. Here's what I bought:
Disclaimer: Doctors have been advising AGAINST taking any anti-inflammatory drugs such as aspirin, ibuprofen, advil, cortisone, etc. as it could be a factor in worsening the coronavirus infection. Make sure to consult with your doctor if you are already on anti-inflammatory drugs.
Vitamins & Medicines
Vitamin D – Helps boost your immune system.
Prenatal – Since I am breastfeeding, my OBGYN recommended I continue taking my prenatal pills
Probiotics – Helps promote a healthy digestive system
Dayquil and Nyquil
Baby Tylenol – Incase of an emergency with Serena, it's always good to have it at home if you have a baby
Thermometer – I wanted to be able to take my family's temperature when needed
Water & Minerals
Home Supplies
White Vinegar – I literally use white vinegar for EVERYTHING! Washing fruits and vegetables, cleaning Serena's toys, cleaning around the house etc. The benefits of it are ENDLESS. Read more about it right here
Apple Cider Vinegar – I take one spoon of apple cider vinegar on an empty stomach every morning. It's a great detox that also helps lower blood pressure and aids in weight loss.
Toilet Paper
Clorox wipes – I like wiping down almost everything with these wipes
Lysol all purpose cleaner
Paper Towel
Toothpaste
Laundry Detergent
Garbage bags
Baby supplies
Diapers
Wipes
Formula
Frida baby first aid kit
Friday baby Humidifier
Humidifier drops
Food; We are sticking to a vegetarian diet.
Frozen fruits and vegetables – They have a longer shelf life and I can use them for my morning smoothies or easy vegetable stew recipes
Canned goods such as beans, artichoke, corn etc.
Vegetable stock
Eggs – can last for up to 3 weeks and they make a great breakfast option!
Bread – I put them in the freezer and take them out as needed.
Oatmeal
Rice
Salt, pepper, cinnamon, and other spices I tend to use often
Tumeric – boosts your immune system, great for your skin, and helps prevent inflammation. Tip: add a teaspoon of tumeric, cinnamon, and ginger to your tea. It works magic if you are feeling a little under the weather.
Fresh Produce such as: Lemon, Garlic, Onion, Carrots etc.I wash them all and freeze whatever I will not use within the next few days.
Fruits high in Vitamin C such as: Grapefruit, apples, and oranges.
Dried fruits and nuts
Olive oil and Vegetable Oil
Beyond meat burger and patties- For at home burger nights!
Frozen Pizza – for my lazy days
And that concludes my Coronavirus Shopping List! Hope it helps! & I hope you are all staying positive and safe.
Shop my list