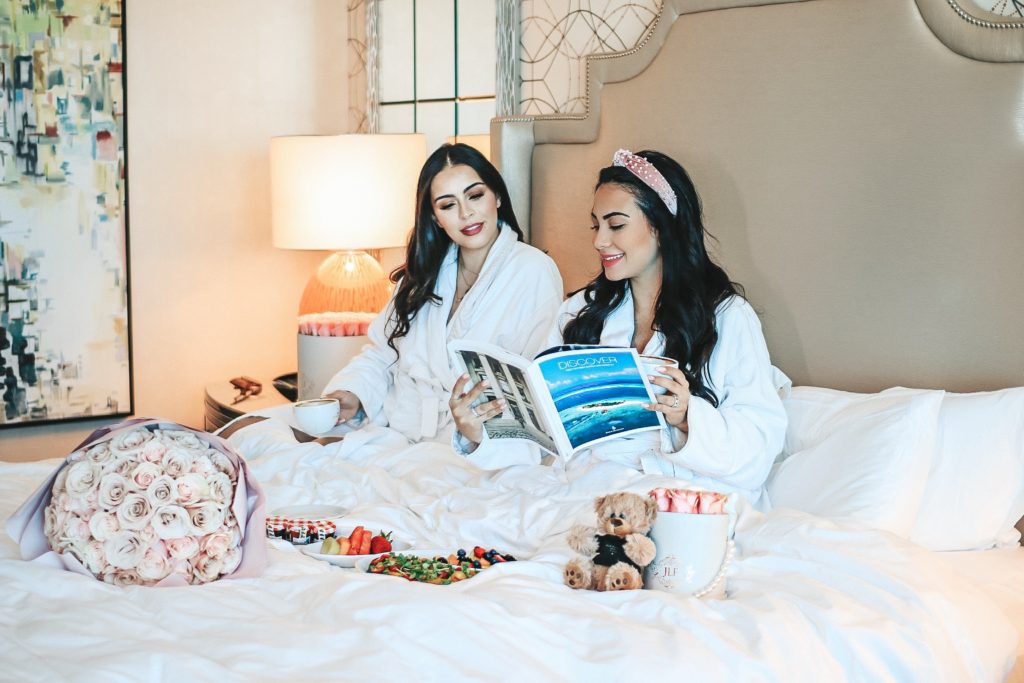 Disclaimer: This blog post is in partnership with Four Seasons Las Vegas.
Situated on the Las Vegas strip but without the casino and Las Vegas party scene, I knew the Four Seasons would be the ideal spot for my solo baby moon.
My stay was filled with an expecting mother massage (Yes, if you are pregnant you are able to receive a massage as long as you are past your first trimester), a delicious dinner for two at the Veranda Italian Cuisine, a strip-view bedroom, and an excellent customer service experience.
LOCATION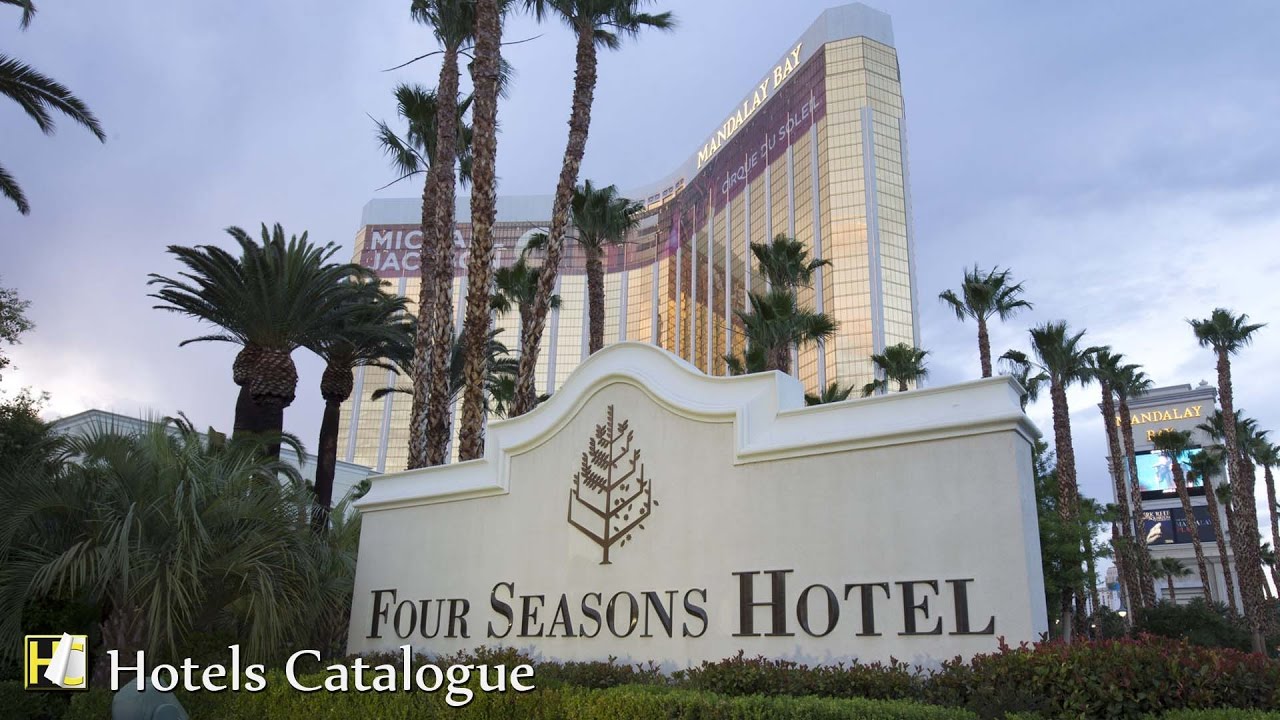 Located at the beginning of the strip, the Four Seasons Hotel Las Vegas offers the Vegas strip experience without the crazy crowd and smoking casino floors which was ideal for me as a mom to be.
The hotel offers delicious dining options for you but just incase you wanted to grab a quick bite somewhere else, Town square is only a few minutes away along with In-and-Out and McDonalds being right across the street. You can also take the elevator down to the casino level and end up at Mandalay bay.
From the moment you enter their beautiful lobby, you know you are staying at a very special hotel. It offers a luxurious contemporary vibe which is my favorite!
ROOM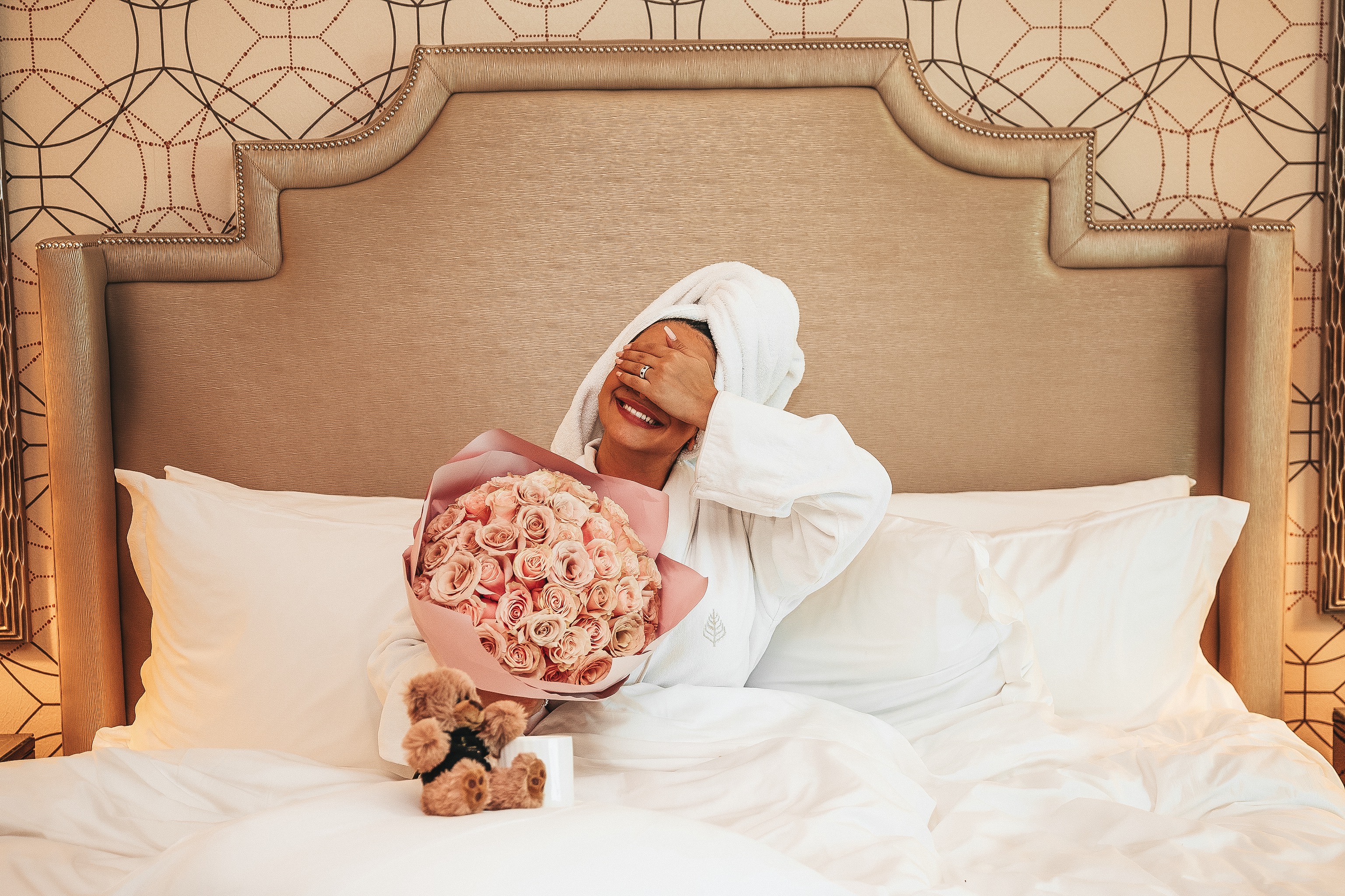 I was initially greeted with a welcome note accompanied with cookies that had my initials on them and strawberries dipped in chocolate. Right in time for my sweet tooth cravings! YUM
Upon entering the room, the minibar was right at the entrance and had plenty of complimentary bottled water, which was key in the humidity of the Vegas dessert. The bathroom was spacious enough for me to get ready and enjoy a nice bubble bath. I definitely lounged in their cotton robes all day as well.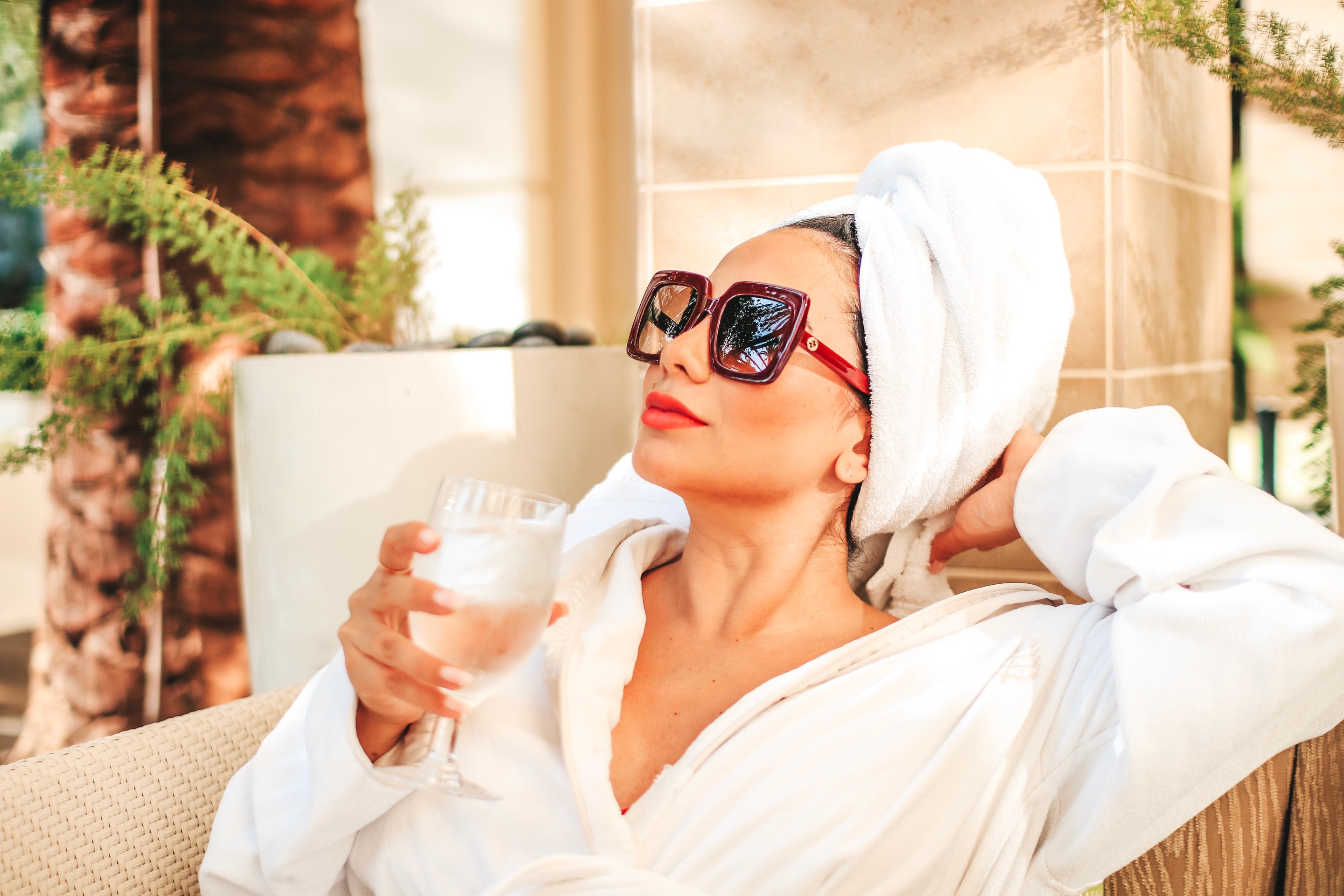 & I can't forget to mention my delicious in room dining experience!!! Ok, I may have overeaten. But the food and presentation was excellent. It was delivered right on time and they had a variety of options for you to choose from. I went for their avocado toast, freshly squeezed OG, a side of fruit and of course a bakery basket. P.S: Their chocolate croissant has got to be the best croissant I've had in a while!
DINNER
Me and my sister were invited for dinner at Veranda, a trattoria-style Italian restaurant specializing in delicious hand-made pasta and savory Italian desserts. The moment we entered the restaurant, the staff was so cordial. They were expecting us and had been informed already of my dietary restrictions. It felt like a total VIP experience walking in there.
We started off with their Burrata Caprese and Barbabietola salad both of which where DELICIOUS. I've been loving tomatoes during my pregnancy so I am always ordering any tomato salad I find on a menu.
As far as our main entree we ordered 3 variations of pastas (I am eating for two even though I really shouldn't be but ?) and my FAVORITE was their LASAGNA AI FUNGHI (Lasagna with Mushrooms)!! It's a vegetarian dish that honestly tastes better than the traditional meat Lasagna.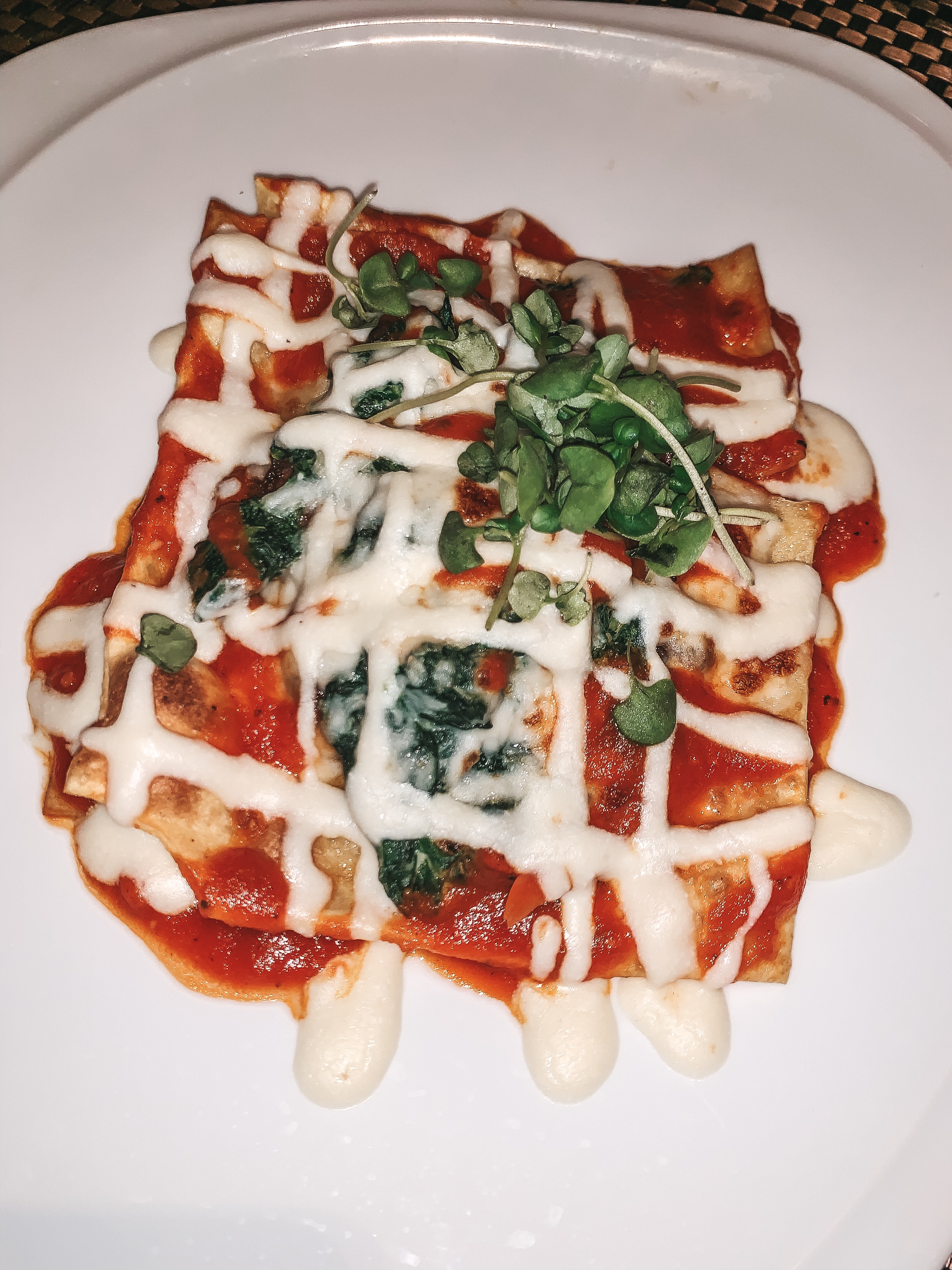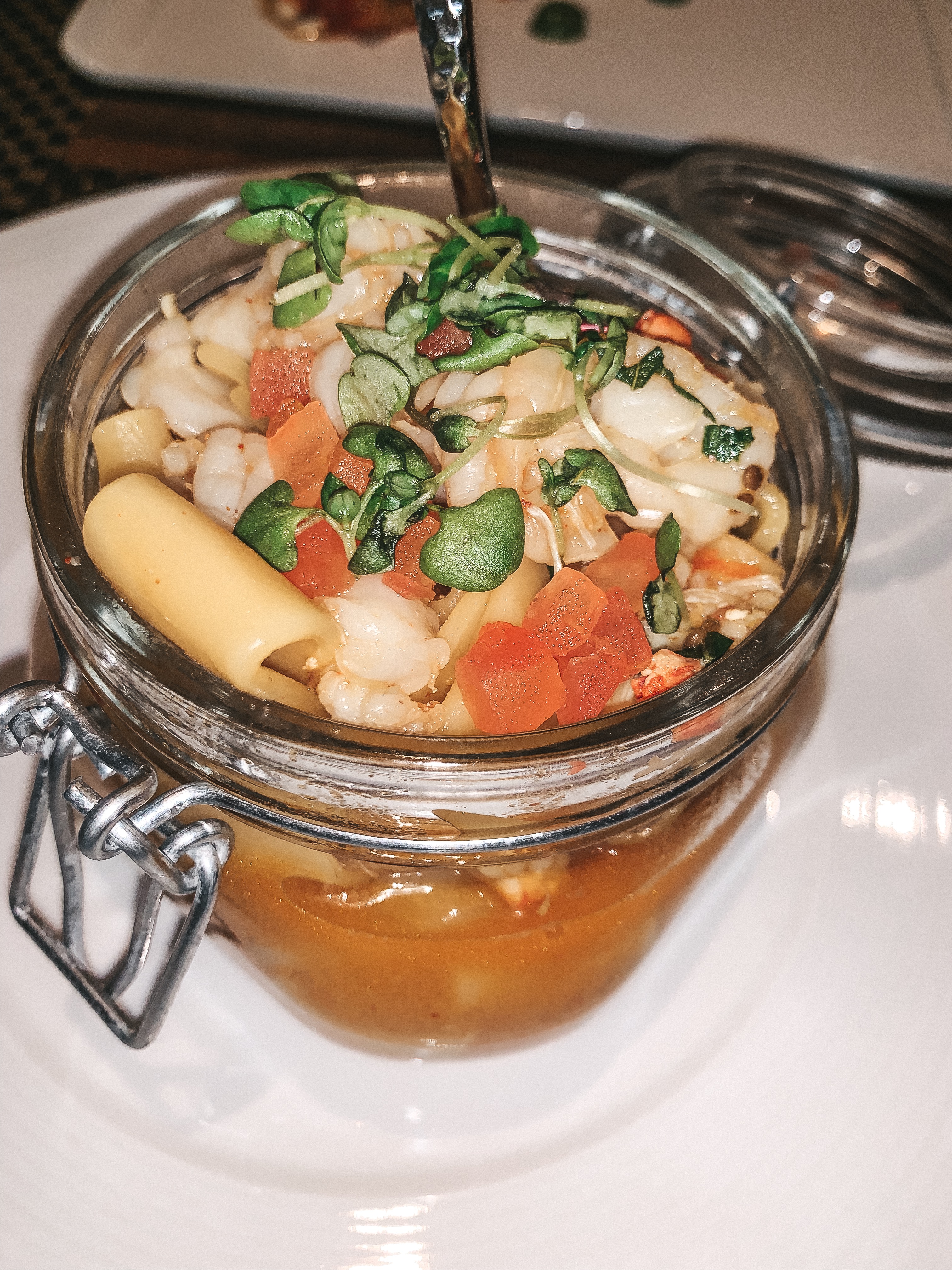 & of course we couldn't end our dinner without satisfying our sweet tooth. If you are looking for that IG worthy dessert shot, I recommend you order their Signature Sharing Dessert: Tiramisu Cake served with a crispy hazelnut basket, white chocolate, hazelnut and espresso gelato topped with a huge cotton candy ball. SO GOOD! I couldn't eat the tiramisu but I sure did enjoy everything else!
SPA
For all the moms to be, I highly recommend you incorporate a spa day in your baby-moon! This was my FAVORITE part of my stay at the Four Seasons. Their relaxation room is filled with energizing and healthy snacks along with water and other refreshments. The therapist was extremely sweet and specialized my spa treatment based on my needs.
It is important when getting a massage while you are pregnant to make sure the bed in elevated while laying down on your back. This particular massage involved a 50 minute relaxation massage with me laying on my back the whole time which I personally liked because I wanted her to focus on my shoulders, scalp, and lower body. They do offer plenty of add ons such as a scalp oil massage, hot stones, cupping therapy and more. If you are pregnant, you might want to stay away from getting a cupping therapy!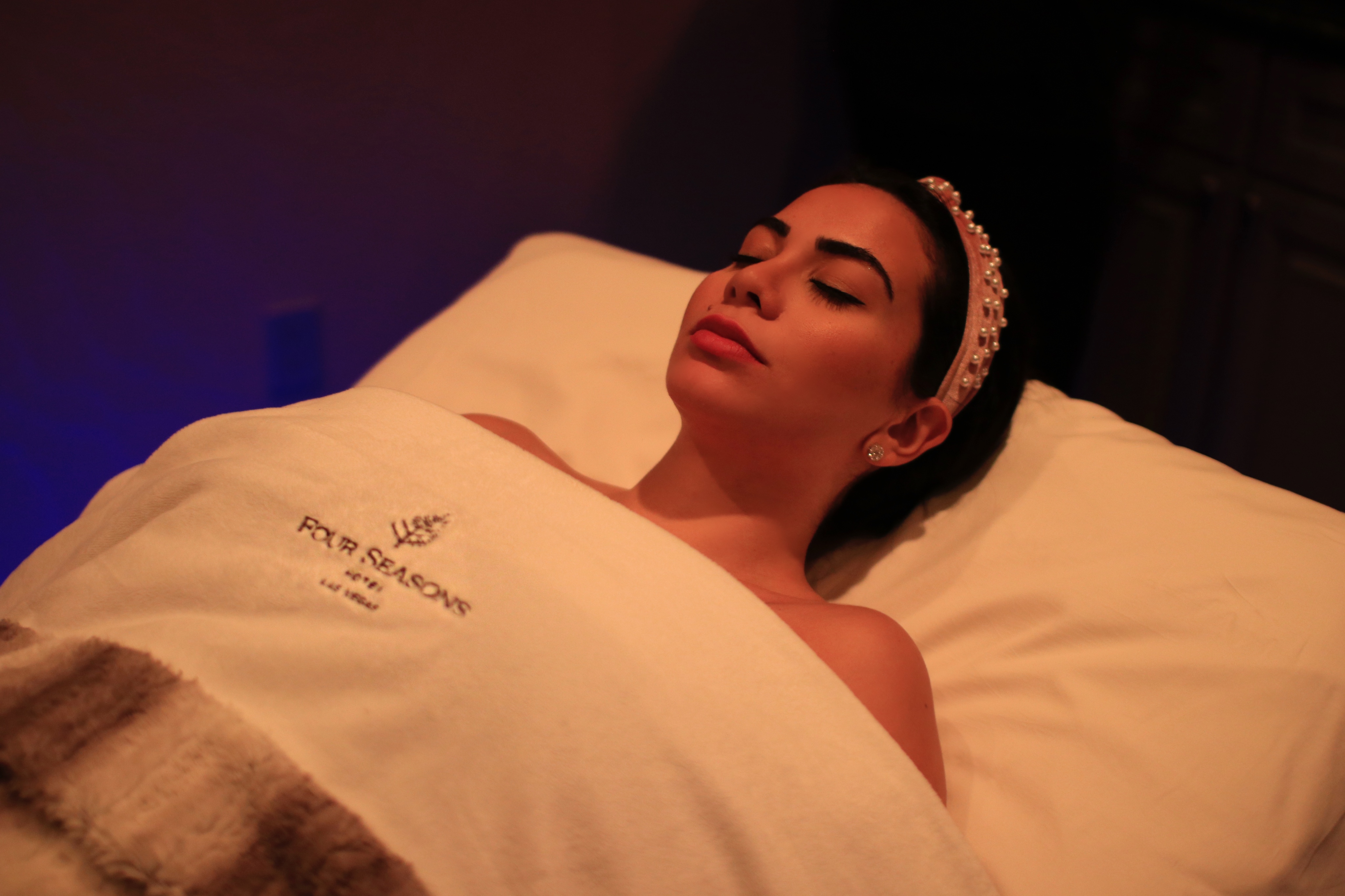 Thank you to the Four Seasons Las Vegas staff for a wonderful stay. It was an amazing experience and will definitely be coming back here for more delicious food and an ultimate relaxation experience!
Here are some more photos from my stay: