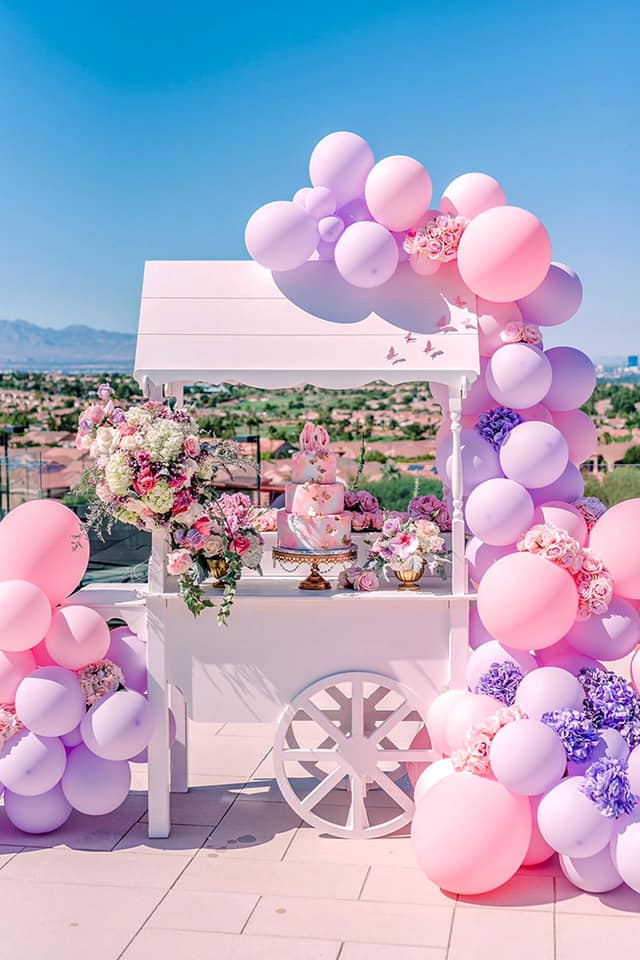 I still can't stop daydreaming about the amazing baby shower that was thrown for baby Hage! I am so happy with how everything turned out because your girl was STRESSING. Not only did I have a huge work project the week before, but I was 8 months pregnant and starting to feel very heavy so everything required triple the effort.
Why did I pick a ballerina themed shower?
Growing up, I have always been into dance, I was actually part of a dance group since 4th grade so performing and being on stage has always been a big part of my life. Even though I did not specifically practice ballet, I always viewed ballerinas as extremely elegant and classy and that was exactly the vibe I wanted to give off at the shower.
On dealing with low energy when planning a baby shower:
If you are a control freak like I am and you're planning on executing your own baby shower, you might want to consider these hacks that helped me deal with the low energy of being 8 months pregnant while still enjoying the celebration of your soon to arrive baby!
Start EARLY
Do NOT wait until you are so far into your pregnancy to plan the shower. Some women get a burst of energy during their second trimester and some don't. Do not compare how you are going to feel to other pregnant women. If you are feeling pretty good at your first trimester then great, get to planning! You don't have to go crazy into it, just start brainstorming by figuring out the theme you want for your shower, a possible date, and look up some venue options.
I started creating a Pinterest mood board of all the things I wanted to incorporate at my shower during month 3 of my pregnancy and slowly kept adding more inspiration to my board until a prevalent theme and color scheme popped out to me.
Hire Help
Sometimes you just have to let go and ask for help! I knew early on that I was going to be incredibly busy during my pregnancy and because I was dealing with a lot of morning sickness, I wanted to take the pressure off my shoulders and hire a planner who understands my taste. You can always delegate tasks to your friends and family as well if you feel comfortable doing so. For instance, I had my mom in charge of the food, my planner in charge of booking and negotiating with all the vendors, and my sister in charge of getting the drinks!
Shop For Your Baby Shower Dress Online
Ever since i've gotten pregnant, I hated going to the mall and shopping (shocking I know) but it's almost IMPOSSIBLE to find cute maternity clothes. On top of that, cute maternity gowns, talk about a mission impossible. So, I did my research and found a few cute online stores with maternity dress options. It took me 3 wrong orders before I found the IT dress so start shopping early and make sure to read each online store's return policy. Some of my favorite online maternity dress shops are: Chic bump style, ASOS and Boohoo. You may also find a few cute options on Etsy just make sure to order your dress early just incase it needs any tailoring AND to give yourself enough time to finalize your look with the right accessories.
Get Your Hair and Makeup Done For You
On the day of your baby shower, do not even attempt to do your own hair and makeup. You are already extremely stressed about how the shower is going to be and 1000 other things on your mind, the last thing you want is to worry about dolling yourself up. Book your hair and makeup appointments in advance and ask if they can come to you instead! I enjoyed the 50 minute of my makeup application to literally take a much needed nap.
SLEEP
I've noticed when I don't get at least 8 hours of sleep, my morning sickness is 10x worse. Not only that, but it ruins my entire day and makes my pregnancy a lot harder so mamas try your best to get enough sleep leading up to your shower. If you are finding it difficult to fall asleep: use more pillows for extra comfort, take a warm bath, drink a warm cup of milk with honey and/or ask your significant other or a family member to give you a nice foot massage.
Pack some flats
2 hours into my shower and my Jimmy Choo heels had to come off. No shame whatsoever. Make sure to pack a pair of sandals or sneakers to change into when your feet start hurting. Trust me, your shower will not be enjoyable whatsoever when you are in pain. Worried about the photos? Take all your solo and family photos first thing with your heels on and if you decide to take more candid photos throughout the shower, you can always crop your feet out. No one will even notice. Plus, you are pregnant! This is your excuse to break all the fashion rules and pick comfort over style (but I mean, you can always pick really cute flats that compliment your look.)
Stay hydrated!
Make sure to drink plenty of water and have some Gatorade if you are still feeling dehydrated. I even scheduled a hydration IV a day before my shower and it helped give me a boost of much needed energy. Throughout your baby shower, make sure to stay hydrated. My planner even had one of the waitresses make sure that my cup is always refilled with water and of course my mom would follow me around with a bottle of water every 5 minutes even when i'm grooving on the dance floor. Love you mom!