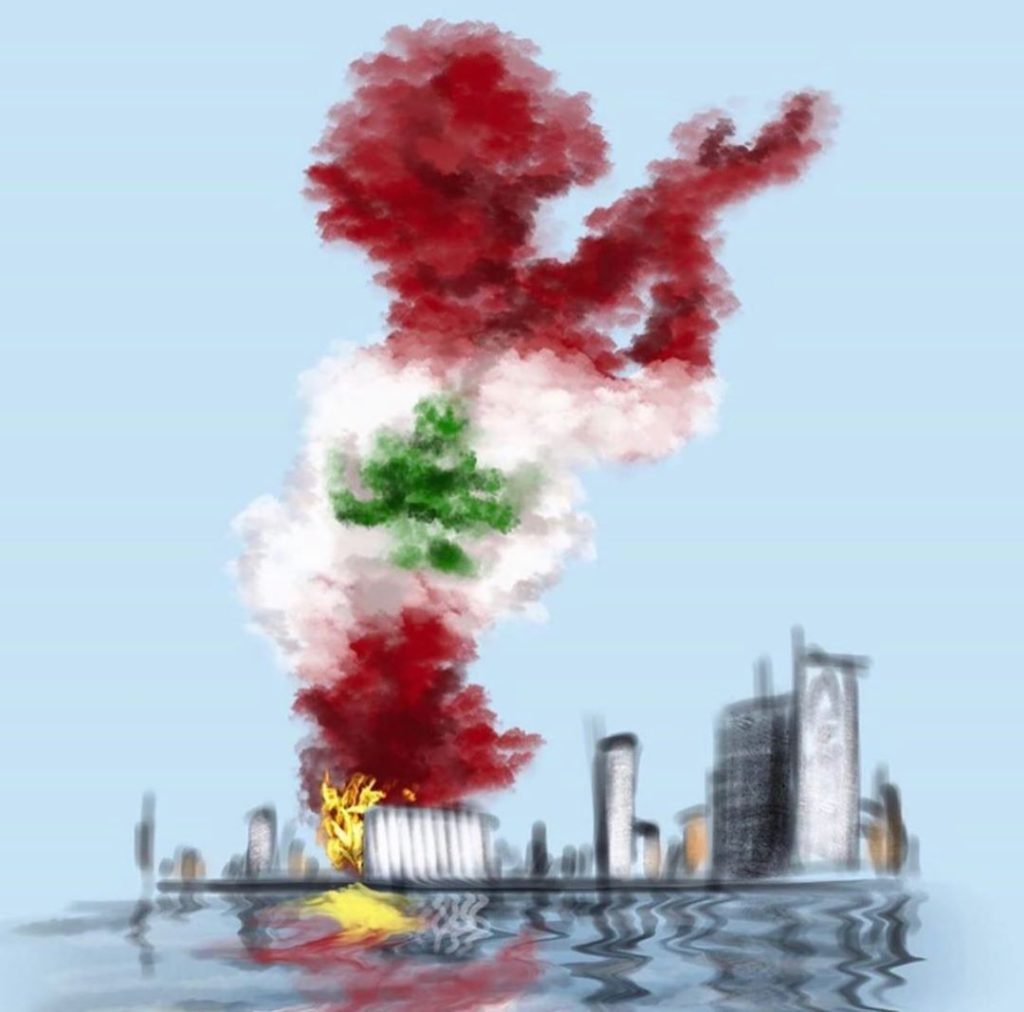 Following the massive explosion in Beirut on 4 August, the catastrophe left the city extensively damaged. The blast went off near the Lebanese city's port due to 2,750 tonnes of ammonium nitrate (a highly explosive material) stored unsafely for six years.
In order to alleviate the urgent crisis, Guinwa collected NGOs to donate to from abroad. Taking to Instagram, in a post, she captioned: "if you are living abroad and want to help, please make a donation to the following."
Additionally, Guinwa HQ is also sharing other ways to support those in Beirut. Whether it's private individuals, who are funding the Lebanese community, Guinwa's own relief aid, or simply raising awareness with Guinwa's special Instagram filter. Here are all the links to donate to and the things you can do for support!
Guinwa x Hawiyati
Guinwa started an initiative through her non-profit, Hawiyati to sell Lebanese inspired face masks. 100% of the profits will go to support families in need of emergency assistance in Beirut. Note: at the moment, they are only shipping to US and Canada.
You can get your mask by donating to Hawiyati's Beirut Disaster Fund here!
Impact Lebanon
Impact Lebanon launched the Disaster Relief Fundraiser to provide urgent relief to those affected. The organization only supports vetted NGOs with the funds, making sure donations are allocated to people, who need it the most.
You can donate here.
Lebanese Red Cross
The main provider of ambulance services in Lebanon is the Lebanese Red Cross. Help them respond to emergencies faster by even as little as $2.
You can donate here.
DAFA Campaign
The DAFA Campaign is a much-needed non-profit NGO in Lebanon. It supplies the community with essential food and resources. The amazing part? The organization grows its own crops to deliver truly healthy fruits and vegetables.
You can donate here.
Support Beirut's Creative Studios via Cynthia Merhej's Fundraiser
Help Studio Safar, Papercup, and Jana Saleh, who are "an integral part of Beirut's new creative wave," writes Cynthia. Due to COVID-19, "these independent small-businesses were already at the edge of survival." She added that "with their working spaces, equipment, archives, and in one case, home, completely destroyed – it is literally impossible for them to get back on their feet without our financial help. "
You can donate here.
UNICEF
The global organization helps children and families around the world, including Lebanon.
To donate from your country, click UNICEF's link in bio here.
Lebanon Needs
The non-profit organization supplies medications and health support. Therefore, it consists of doctors, entrepreneurs, pharmacists, nurses, researchers and psychologists. They ensure basic needs are met, particularly healthcare, housing, and food.
You can donate here.

Courtesy of @judechehab
Zaman International
Zaman International provides essentials, such as food and clothing for people in poverty. In partnership with International Medical Corps, "Lift Lebanon" fundraising campaign will provide relief to the current crisis in Lebanon.
You can donate here.
Rebuild the Lebanese Community with Jude Chehab
Due to high levels of corruption in the government, Lebanese citizens opt to trust private individuals and NGOs. You can also donate to film director Jude Chehab via PayPal, who is raising funds to rebuild the Lebanese community.
You can donate here.
Beit el Baraka
The Beirut-based non-profit organization is aiding families in need – from refurbishing and repairing homes to medical support and even a free super market! The foundation also helps by employing the community, helping them to generate income.
You can donate here.
Raise Awareness
It's important to spread awareness whenever and wherever you can. And especially, if you can't donate. To do so, Guinwa created a special Instagram filter to snap your selfies with!
Dubbed 'Lebanese Logo,' you can access it from Guinwa's profile anytime. How? By clicking on the little emoji-face next to the IGTV icon. But if you can't wait to see it, click here to try it out now!
Finally, check Guinwa's Stories on daily updates, "I will continue to add more campaigns that you can donate to throughout the day. Feel free to DM me with more links to share."
Stay tuned for more updates!
Photos: The Mohammad al-Amin mosque in Beirut via Marten Bjork on Unsplash and Instagram.