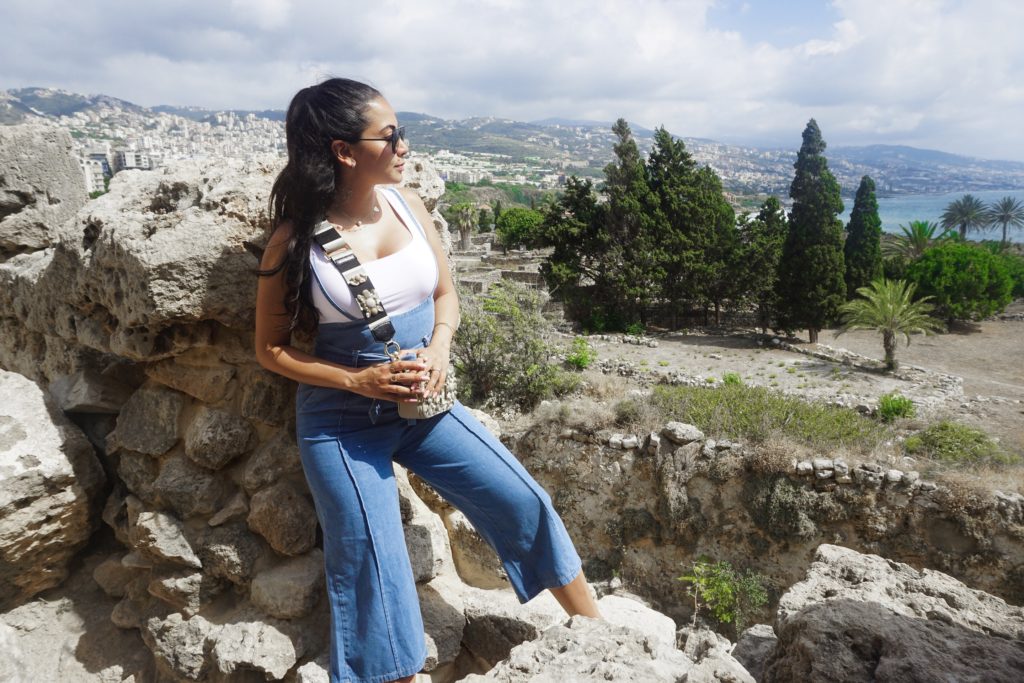 Hi babes,
I just got back from my 35 day visit to my country of origin, Lebanon. This has been the longest time I've been there on my own (my sister was with me but we are one so that does not really count :p) and what an eye opener it was!
The purpose of my visit was for business and wedding planning meetings. I was in such a rush to finish everything before my fiancee meets me in Lebanon because he has zero patience when it comes to wedding planning ?.
Now this trip was filled with surprises, some were good and some were bad. To help any of you visiting my lovely country, here are my tips for traveling to Lebanon.
Do NOT advertise that you are a foreigner — This will be their chance to charge you quadruple the price of any service.
Figure out transportation before you arrive — If your budget allows you to, hire a driver. The average daily rate of a driver in Lebanon is $60 plus gas and the car rental fee. If hiring a driver is not in your budget and you have never driven in Lebanon before, take the pressure off of yourself and order a taxi because driving in Lebanon is the scariest thing ever!!!! My favorite taxi company in Lebanon is: Alo Taxi but for those uber fans, you can utilize your uber app in Lebanon; a cheaper alternative than Alo Taxi.
Be realistic with your budget — Other than food and entertainment, Lebanon is more expensive than the USA, I still don't quite understand why, but it is. If you want to receive an exceptional 5 star service, you have to be prepared to pay double what you pay in the USA for the same quality of service.
Always ask for recommendations from someone you trust-– When booking a hotel, making reservations at a restaurant, or buying jewelry, make sure to ask someone you trust that is residing in Lebanon for their recommendations. Do not trust what you see on the internet or the Instagram pages of some local businesses because it can be all bluff. Lebanon is such a small country, so its citizens know the ins and outs and whats good and whats not, so ask around!
Carry cash — Many places do not accept credit cards so make sure to carry cash! They accept both dollars and Lebanese Lira. $1.00 is equivalent to 1,500 Lebanese Lira.
Make sure to experience the nightlife — Do not leave Lebanon without experiencing its nightlife. In my opinion, it is the best in the world and compared to Vegas, it is very affordable. From vegas style nightclubs, Arabian night parties to concerts and dinner parties, Lebanon will have an entertainment that fits every style. They also do a wonderful job in mixing Arabic, English, and Spanish music together.
Wear comfortable clothes — You will be walking A LOT and some areas are not designed for pedestrians, so walking on the streets can be a challenge if you are wearing heels.
Download Zomato — Lebanese food is delicious and there are so many options for you. You will find a restaurant in every corner, so to help you narrow down your selections, download Zomato. It helps you explore restaurants, bars, and cafes in and around Beirut. After my incident of getting food poisoned, a friend recommended this app for me and I will never go to a restaurant unless I thoroughly go over their customer reviews on Zomato cause girl, I would rather be safe than sorry!
Pharmacist will be your best friend— Unlike the states where you cannot get a prescription for a medication unless you have a script from your doctor. In Lebanon, a pharmacist can prescribe you any medication. Obviously, if your situation is very severe, you should go to a nearby hospital but if its something minor like a flu, fever, or even food poisoning (yes!!! I was so surprised when my friends told me that they just ask for an oral IV to treat themselves), pharmacists in Lebanon can treat you for a much affordable price than a hospital or a doctor's visit.
Hair services are cheap — I am talking $12.00 for a blowdry and $25.00 for a style. You will find a salon on every corner and they are all so talented! So if you feel like pampering yourself while on vacation, take advantage of the price and quality of their work.
Don't be afraid to negotiate — This applies to almost anywhere you go in Lebanon. There is always room to negotiate. I am terrible at that, but I think after this visit, I have mastered the skill of negotiating!
Always ask for a contract — When buying a service whether it is, a dress from a designer, hiring a creative, or planner, ALWAYS ask for a contract that highlights the services you will receive and the final cost because they can literally come back to you with a price thats triple what you have agreed on initially AND not complete the project as expected. Find a way to hold them accountable and make sure you are getting what you are paying for! I can go on with this point cause I experienced my fair share of working with talents and creatives who have no sense of professionalism. So, do not be afraid to be firm with them, set rules, and never pay the full price for an uncompleted job. Even if they promise you the world and you feel like you can trust them blindly. Do not.
Don't limit yourself to just Beirut — Even though Beirut is a fascinating city to explore, make sure you allocate time to visit other cities such as Byblos, Tyre, Baalbeck, Broumana, the North and South. There are many cheap activities, delicious food, impeccable hospitality, and breath-taking views.
Buy Gold — Its a beautiful element for women or men, AND its also an investment. Just like land and property, gold also has value. My mom always told me, "It's better to save gold coins than cash because cash will always go down in value." So if you are in Lebanon, treat yourself with some gold jewelry! There are many designated "souks" that sell gold and they can also customize any design you would like.
Get yourself a nice tan! — The sun is a lot lower in Lebanon so it is much easier for you to get a nice tan without having to sit out in the sun for hours. I probably was the palest Arab girl you can meet but a few trips to the beautiful beach resorts in Lebanon fixed the problem :).