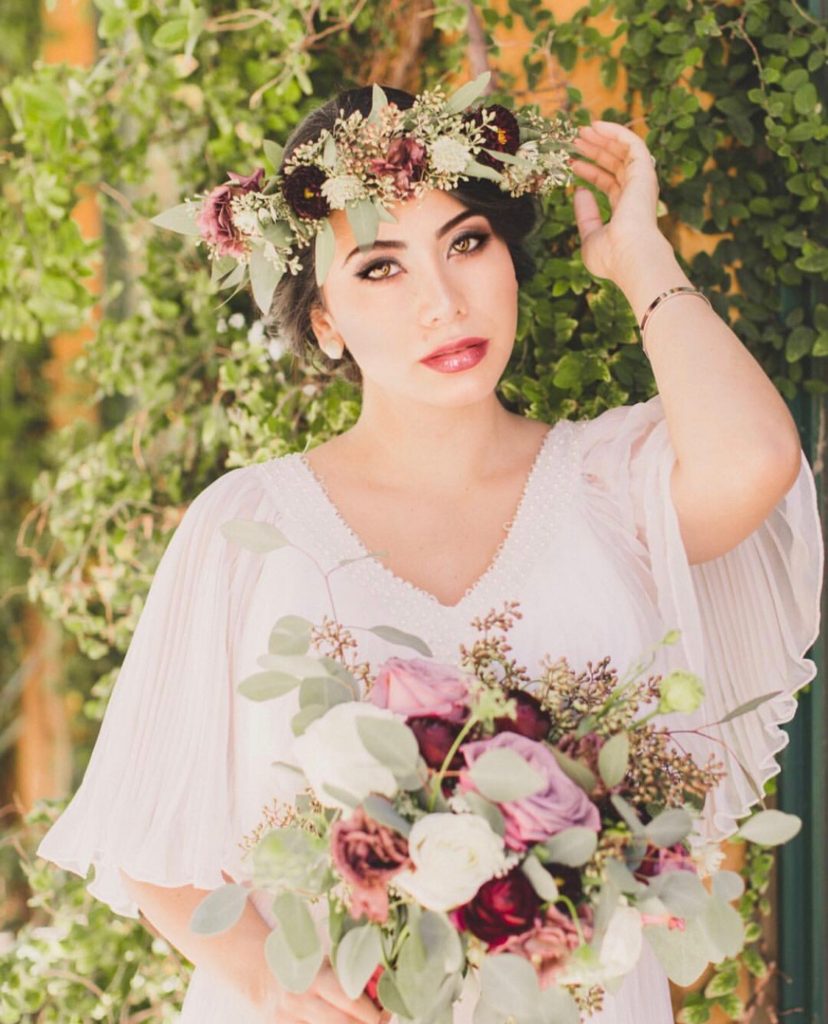 Here is a quick guide to looking fabulous on your wedding day! Follow these steps before your wedding to make sure you are staying on track.
3-4 months before your wedding
Groom Your Brows – Consider options like micro-blading and eyebrow tinting.
Get Serious About Your Skin Care – Stick to a good cleansing and moisturizing program and schedule monthly facials that meet your skin needs.
Whiten Your Teeth– Crest whitening strips are a great option, you can also invest in at home whitening trays or schedule an appointment with your dentist to do an in-office bleaching session.
Touch Up Your Hair Color – See if your roots need to be retouched or maybe consider adding some highlights to your hair.
Work Out And Cut Out On Sugar And Caffeine– Schedule an appointment with a personal trainer to help you kick start your work out routine, find a workout partner for motivation or invest in some yoga sessions.
Set Up Consultation Appointments with Makeup Artists and Hairstylists – This is a good time to start searching and booking trail appointments with your glam team. Most hairstylists and make-up artists need a 3 month notice prior to booking and the good ones get booked fast.
Book A Trail With A Tanning Specialist– Booking a trail with a tanning specialist will help you find the perfect shade to match your skin tone and wedding dress. If hiring a tanning specialist is not in your beauty budget, you can start experimenting with self-tanners yourself. Don't forget to consider the neckline of your gown and whether you have tan lines that need to be covered.
1-2 months before your wedding
Botox – If botox is something you do, do it at least 2 months in advance to make sure you correct any potential issues.
Beauty accessories – Start searching for the perfect hair extension, special lipstick color, hair pieces etc.
Set up your Final makeup trail – Make sure to bring any special lipstick color that you would want your artist to use with you, and don't forget to photograph the makeup. You want to make sure your makeup looks just as good in photos as it does in real life. Photos do matter, let's be real.
Improve your fitness routine – Take your workout regimen to the next level. Maybe add more weights or increase your cardio time.
Monthly Facial – don't forget your monthly facial. Consult with your esthetician on what your skin needs are and pick a treatment that targets your skin problems.
Sleep – Make it a priority to get at least 8 hours of sleep each day.
1 week before your wedding
Waxing – This will give any bumps enough time to settle, plus, you want to be ready for that honeymoon lingerie.
Book your final Eyebrow shaping appointment – I prefer threading but do whatever technique you are most comfortable with.
Get your last facial – Facials might leave your skin looking irritated or cause some redness so make sure to give your skin enough time to get back to normal
Cut out all sugar, bread, and diary – this will prevent you from looking bloated on your wedding day.
2-3 days before your wedding
Massage – after all the stress planning your wedding, you deserve to splurge on a massage.
Get a spray tan – you do not want any tan lines to show on your wedding day. Try to keep the spray tan on for 8 hours prior to rinsing it off. This will give you the best color payoff.
Nail appointment – Try to book this after your spray tan appointment. For bridal nail inspo, check out my Nail Pinterest board
1 day before your wedding
Wash your hair – Consult with your stylist on when you should wash your hair but usually when styling your hair, it's best to have your hair a day "dirty"
Get plenty of sleep – I know you may be nervous, but try to get at least 8 hours of sleep
Hydrate – Drinks plenty of water
The day of your wedding
Do not skip breakfast – eat a high protein breakfast and avoid anything that will get you bloated.
Start hair and makeup early – This will avoid you rushing to get ready
Touch ups– if your makeup artist is unable to be there with you during the entire event, make sure to pack some lipstick and powder for touch ups.
Wear a robe or a button up shirt – you do not want to mess up your makeup and hair when changing
Knock 'em dead – Enjoy this day to the fullest, I am sure you will look GORGEOUS.
What aspect of your bridal beauty regimen do you find most stressful? Skincare? Hair? or Makeup?