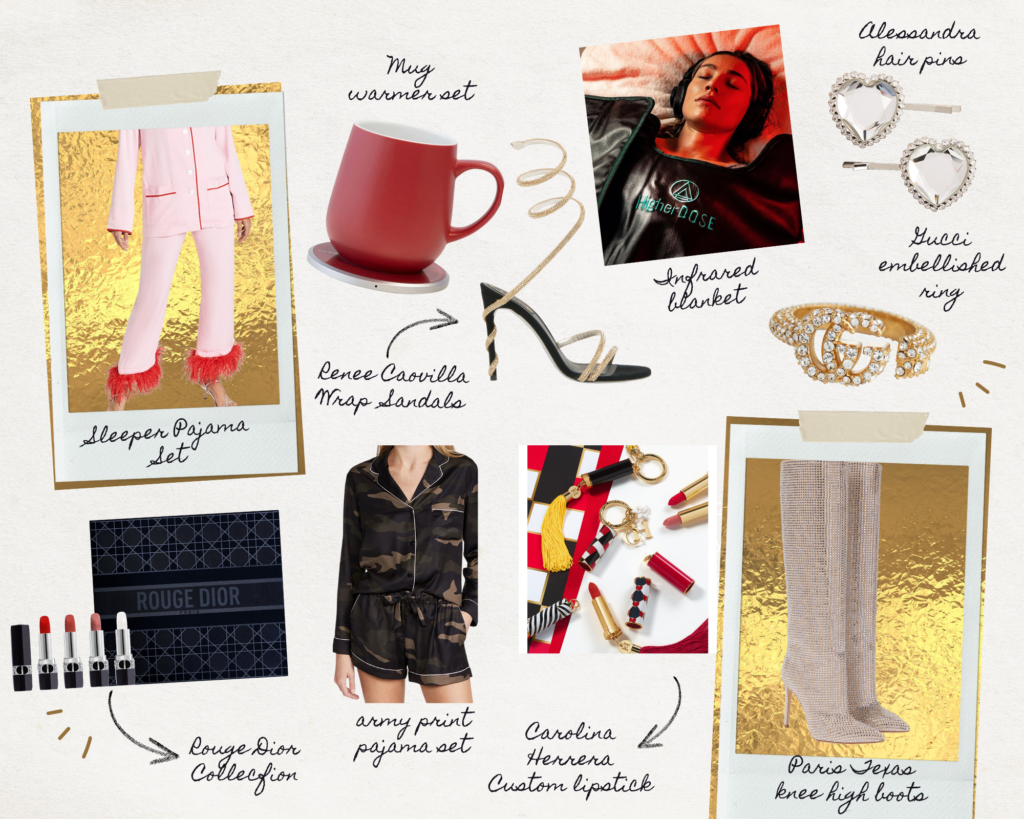 My favorite gift guides are the one I create for the holiday season because they help me start brainstorming for gift ideas for my family and friends. This year however, the holidays look a bit different for me as I am spending them in Dubai.P.S: If you want to see what the holidays look like in Dubai, make sure to subscribe to my youtube channel as I'm putting out 2 videos every week highlighting the holiday season here. Okay now back to the gift guide!
Here is my complete Holiday Gift Guide for 2021:
Gifts for her:
These are great options for your wife, mother, girlfriend, or any boogie female in your life. All these items are things I either have and love or are in my current wishlist so you can say this gift guide was created for you with so much love.
Carolina Herrera Custom Lipstick Cause every girl deserves a red lipstick however, with CH, you are able to customize each lipstick with fun accessories to make it fit each person's style.
Paris Texas Embellished Knee High Boots This the season for both sparkles and boots. Paris Texas's new color selection for her knee high boots will make sure you get the crowd starring and the embellishment is always fun especially for the holiday season.
Rouge Dior Deluxe Collection For the lady that loves all things Dior, this collection will impress her. It's still a boogie gift but also doesn't leave a dent in your pocket.
Alessandra Rich Hair Pins These can be worn on new years, Christmas, and even Valentine's day! Such a fun pair of hair pins that every girl would love.
Mug and Warmer Set For the workaholic or moms that love their coffee but are always drinking it cold, this is the perfect gift for you!
Gucci Embellished Ring One of my favorite Gucci rings ever! Love the sparkles and the whole design of this ring.
Sleeper Party Pajama Set I love this brand in general but this specific color combo in their feather pajama set is a total stand out and perfect for this season and even Valentine's day!
Army Print Pajama Set For those who love prints and staying at home, why not pamper them with a nice pajama set. Adding a pair of socks to these as a gift would be super cute!
Infrared Sauna Blanket The benefits of infrared sauna are numerous but the fact that there is a blanket that allows you to get the treatment at your home is a true luxury! This gift is one to impress anyone.
Rene Caovilla Wrap Sandals Wrap sandals are so trendy right now and no one does them better than Rene Caovilla! You can find some of her wrap sandals on sale and I've linked them plus other alternative options right here
Need more inspo? Checkout last year's holiday gift guide right here
Shop the post