On her recent trip to Wyoming, Guinwa naturally kept sartorial savvy – even amongst mountains, hills and lakes. And after sharing her haute spots, we're spilling outfit hacks you can sport in the Wild West.
Denim overalls, chunky knitwear and cowboy boots will complete your rural capsule. Or, in Guinwa's words: "Think cowboy hat, leather belt and boots!" Find below Wyoming outfits galore…
Bandana
You can never go wrong with an edgy bandana. Wrap it around your head for the perfect Wyoming-feel, or just braid it into your hair for a more subtle take.
Bandana (bought it in 3 different colors)
The Denim Jumpsuit
Jumpsuits are great! Super versatile, easy to run around it and super chic. Double the wow factor with denim – without having to worry about tears and stains. Tip: match your suit with an adorable denim number for your baby.
Citizens of Humanity Marta Jumpsuit $522 at Revolve
High-Fashion Sweats
Getting on and off of a plane, causally lounging around or going for hikes? Whatever it is, a sweatsuit will have your back. Guinwa's swear-by sweat: "Staying comfy in my Lover +Friends joggers and off the shoulder cropped top!" And note:
cut-out knits
will be on trend this fall.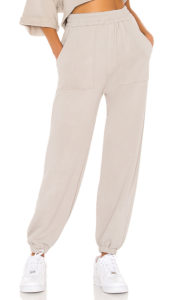 Lovers + Friends Pocket Joggers $207 at Revolve
Lovers + Friends Cropped Off Shoulder Top $156 at Revolve
Wild West Chic
Belt: Saint Laurent
$375
at Nordstrom,
SHOP NOW
Sunglasses: Versace
$253
at Macy's,
SHOP NOW
Boots: Jeffrey Campbell
$260
at Nordstrom
SHOP NOW
Guinwa's DUPES: "For a cowboy feel, other places to shop at include Free People, Revolve, Lucky Brand"
Finally, "Don't forget hiking shoes if you are planning to hike! We used our hiking gear from our trip to Kenya." You can shop Guinwa's hiking shoes
here
and watch Guinwa's Kenya adventure
here
!
What will your Wyoming outfits be? Let us know!