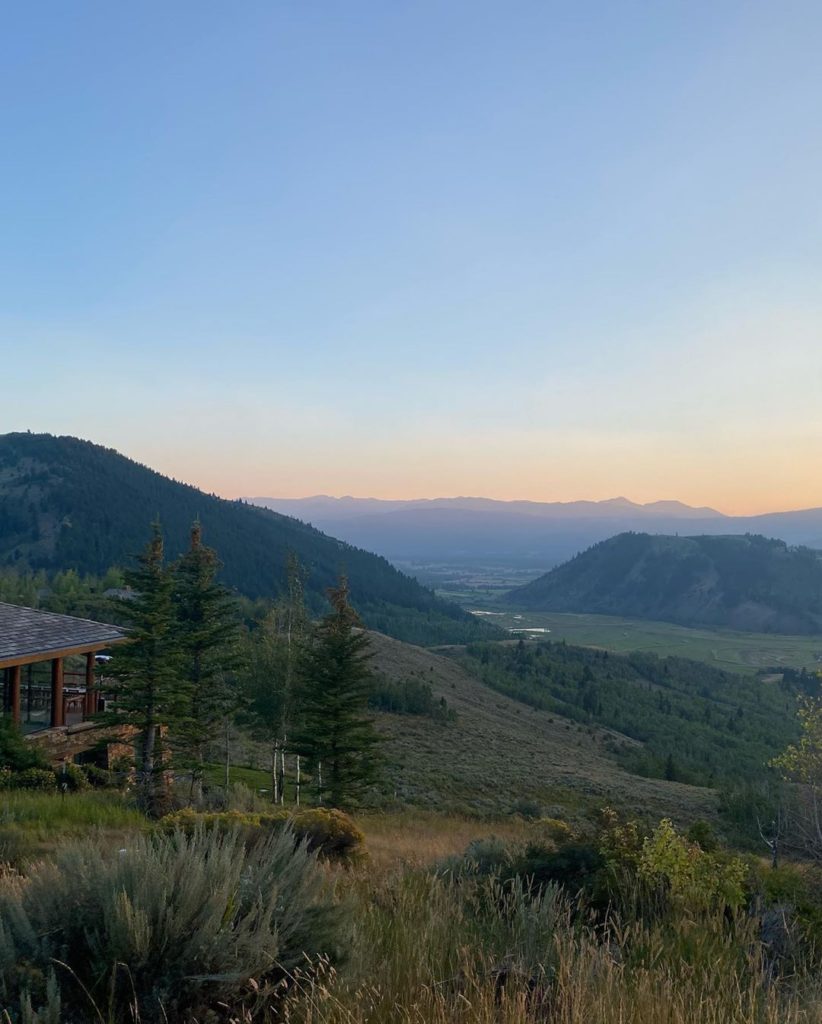 It's September… crisp albeit colder air and summer's last getaways. Should you be in the lookout for an unforgettable end-of-summer trip, you're in luck.
Hitting up the slopes of Wyoming, Guinwa shares her top spots to help you make the most of your trip. Welcome to your itinerary for the Wild West.
WHERE TO STAY
Four Seasons
Enter your luxe mountain lodge in the heart of Teton village. From a full service spa to year-round activities that range from Grand Tetons in the hotel's backyard (we're serious!) to wildlife safari, your getaway can't get any more luxurious, or in fact better.
For more info, visit Four Seasons Jackson Hole here.
https://www.instagram.com/p/CChKXTFAVdD/?utm_source=ig_web_copy_link
Jackson Hotel
A few steps away from shops, art galleries and Town Square's antler arch, Jackson Hotel is naturally on Guinwa's list. Merging Western heritage with fresh grandeur, the family-owned has "a modern vibe and a delicious Lebanese restaurant called Figs as well as an adorable library to relax in and read some books," Guinwa added.
For more info, visit Jackson Hotel here.
https://www.instagram.com/p/CAxrxCtD8Mf/?utm_source=ig_web_copy_link
Amangani
Spacious abodes overlooking the Snake River Valley, heated outdoor swimming pool, pampering spa and log fires provide the ultimate luxe setting. You'll be spoilt for choices from morning yoga sessions and hot air ballooning to hiking and mountain biking, finished by relaxing reflexology. Guinwa's hot tip: book Amangani in advance! "So gorgeous!! It's secluded and all the way up in the mountains perfect for a getaway. Unfortunately we couldn't stay there because it was sold out but it's on our list of hotels to stay at during our next trip to Wyoming."
For more info, visit Amangani here.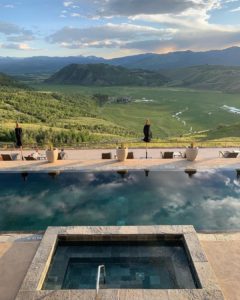 WHERE TO EAT
Breakfast
Whether you're a pastries & coffee person, or a filling morning plate kind of gal, you will love Persephone Bakery. With Instagrammable dishes and interior to serve, "it's in downtown Wyoming and has a great selection of food."
https://www.instagram.com/p/CEO5Okon8T7/?utm_source=ig_web_copy_link
Lunch
"To be completely honest we didn't have 3 meals a day there," Guinwa admits. Continuing, "Our breakfast was always around noon which my husband wasn't happy about. I like to have my coffee in the morning and then eat around 12-1 so it worked out perfectly for me. One spot I liked for lunch not necessarily because of the quality of food but more so for the view was the Deck @ Piste. Their pizza is good and they have 2 salad options for you plus a few snacks, but that's about it. However, the view from top is INCREDBILE!!!!!!! I'd have a slice of pizza for lunch any day if I get to see that view."
Dinner
Westbank Grill restaurant at the Four Seasons. They have some good steak options!
https://www.instagram.com/p/B9kdNCmA3jk/?utm_source=ig_web_copy_link
"Gun Grill is another good option! We have an early dinner there the first night and their food was great! They are known for their steaks but literally everything we ordered there was good. Even the chicken tenders that I ordered for Serena but ended up eating myself."
WHAT TO DO
Wild Life Safari
"We decided to drive ourselves since we have a baby and go check out Teton National Park and Yellow Stone! I preferred Teton National Park! The views were INCREDIBLE and it's only 2-3 hours long so if you have a baby, it's not as overwhelming. If you are lucky, you will spot some bears (we did!!!) might take you longer if you want to go in the hike. Highly suggest you do!"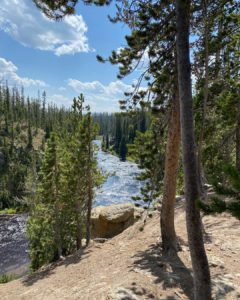 Snake River Tour
Can't-miss won't-miss situation. Discover the breathtaking scenery while getting in your 10k steps and the freshest air.
Horse back riding
"We went to Teton village for our horse back riding session! Takes you up to the mountains. We saw a bear during our ride as well!"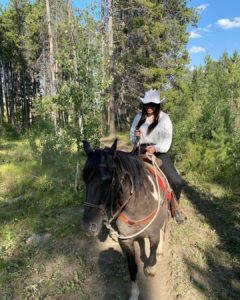 Fishing
While not for everyone, for those into fishing, Wyoming offers the prefect location.
And as for what to wear? Stay tuned for Guinwa's "Wild West" shop! 😉
Scouting more places for a summer's escape? We've got you: head to Guinwa's Maui Guide.