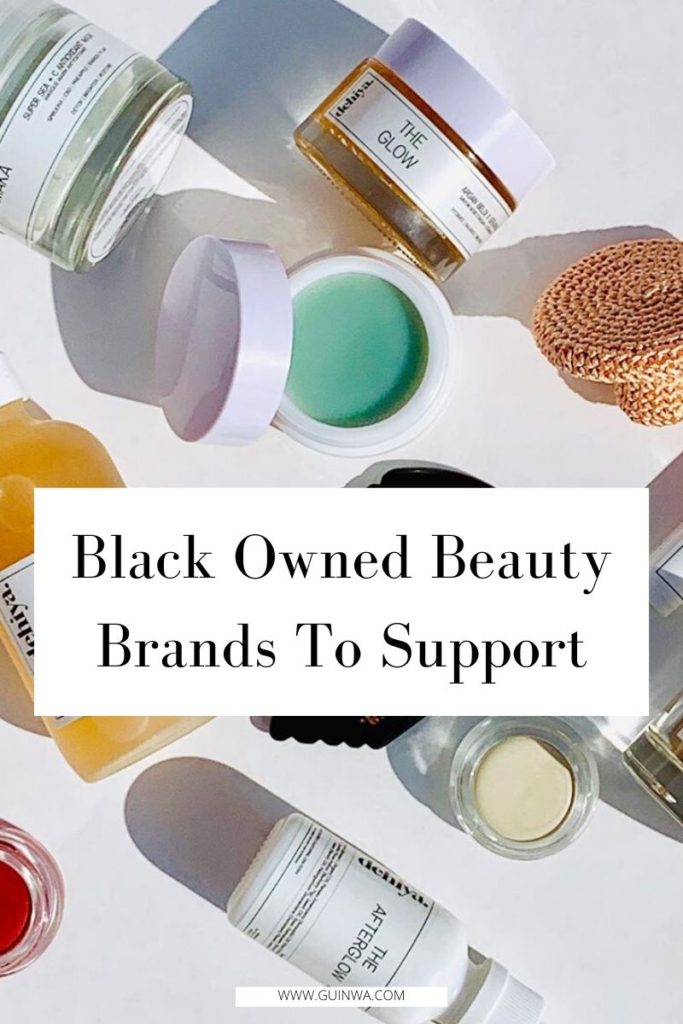 Black-owned beauty brands have not only re-invented the wheel, but changed the game. Think Pat McGrath, Briogeo, or Fenty Beauty.
However, research shows that 40% of black-owned businesses were forced to shut down in the U.S due to Covid-19. And with recent events of police brutality, it's only clear that we need to educate ourselves and start supporting black communities and black-owned businesses.
And what brands to buy? We rounded up some of the hippest black-owned beauty brands you can't help but covet… From detoxifying scalp scrubs and botanical ingredients to sunscreens and the perfect nude lip, these are the black-owned beauty brands to support now and always!
Founder, Mia Chae Reddy's journey began in Morocco, where she studied indigenous plants under a fourth-generation herbalist. Consequently, after gaining insight in ancient beauty traditions, she launched her own label: Dehiya Beauty. Today, the range serves all our needs with plant-based skincare. It includes restorative, antioxidant masks, a mist of floral distillates, glow-boosting serums and cold-pressed argan oil ethically made in Morocco. The line also carries posh beauty tools and even a multi-tasking lip and cheek tint and a luminizing botanical balm highlighter. Sign us up!
https://www.instagram.com/p/B-Axh1BJQdd/?utm_source=ig_web_copy_link
Team Guinwa Recommends:
SHOP Dehiya Beauty White Jade Facial Gua Sha Tool
"Eastern Botox" as it's often referred to, gua sha tackles fine lines and sagging. Made of white jade stone, the tool massages toxins out of the face; tightens, tones and plumps skin while also minimizing dark circles and relieving jaw tension. If you have sensitive skin, gua sha is also known to reduce related symptoms. The best part? The off-white beauty tool will look super chic on your vanity. And on your Instagram feed. 😉
Good hair starts with a healthy scalp. And who isn't a fan of Taraji P. Henson? Combine the two and you have our vote. The premise of TPH. By Taraji is a scalp-first approach for every hair type. From hair scrubs to tingling scalp conditioners and cooling serums, trust us when we say good hair days are guaranteed. Ridding your scalp of toxins is crucial as it fosters hair growth and develops healthy-looking, fuller tresses. Inclusive, the label caters to all hair types, while also concocting rejuvenating hair masks and gentle, moisturizing shampoos.
https://www.instagram.com/p/CAK1Af0lnrI/?utm_source=ig_web_copy_link
Team Guinwa Recommends: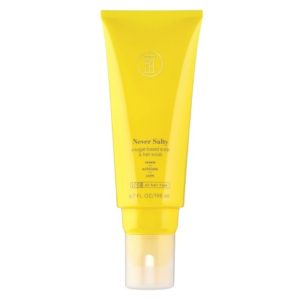 SHOP TPH by TARAJI Never Salty Sugar Scalp Scrub
Happy hair, here we come! Infused with sugar crystals (yum), apple cider vinegar, coconut and peppermint oil, the gooey scrub transforms into a balm as you massage it in – unclogging, detoxing and cleansing your scalp. It also removes dead skin cells and any buildup, thus promoting hair growth. We gotta give it to TPH by TARAJI for being so thoughtful. Not only is it great for all hair textures, but the application is non-messy and direct, thanks to the duo-touch applicator. Bonus points: the sunshine yellow tube instantly lifts our mood. Our only regret is not buying this earlier!
WHY is it so hard to find the perfect nude lipstick? Especially, when it comes to darker skin tones. Founders KJ Miller and Amanda E. Johnson asked the same question. Then, naturally, they came up with a solution: Mented Cosmetics. Launching their own line of lip products, the label instantly became an obsession- and rightly so. The buttery lipsticks are moulded in matte, semi-matte, liquid and gloss, arriving in every flattering shade possible from subtle peaches to cool mocca hues, while its lip liners give long-lasting definition. Today, Minted Cosmetics also span foundation, eyeshadow, blush and even nail polish. Did we mention all lipsticks are vegan, paraben-free, non-toxic and cruelty-free? Call it a win-win.
https://www.instagram.com/p/CBhP7JLngKH/?utm_source=ig_web_copy_link
Team Guinwa Recommends: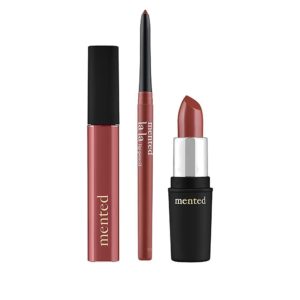 SHOP Mented Cosmetics Mented Try Me Trio Nude Lip Set
The kit features all that you need to enhance your lips and create the quintessential nude pout. Sport it while taking your socially distanced walks, or let compliments flow over your next Zoom call. Need we really say more?
Every girl knows: sun protection is a must – even during lockdown. However, that tacky white-cast often stops us from actually applying it. UnSun Cosmetics is here to change that. Launched by Katonya Breaux, the label creates sunscreens with clean, no-residue formulas. In addition to being clean, it's also kind to both our skin and our planet. All sunscreens are 100% mineral-based and are packed with nourishing, anti-ageing and revitalizing ingredients. Its fast absorbing handcream, for instance, revives skin with cucumber and makes for the perfect little guy to keep our dry hands company. / We're all staying home and washing our hands obsessively anyway./ UnSun is most definitely a black-owned beauty brand to add to your cart!
https://www.instagram.com/p/CAQVtqLJ6sX/?utm_source=ig_web_copy_link
Team Guinwa Recommends:
SHOP UnSun Cosmetics Mineral Tinted Face Sunscreen Lotion – SPF 30
Skip primer and foundation all at once! UnSun's tinted bottle simply makes life easier. It's silky smooth, protects against the sun and gives an even complexion. No residue. No white cast. Just 100% you. Above all, you won't have to worry about any harmful ingredients, or harsh chemicals.
How many times did you scout the beauty aisles for miracle hair products? With high hopes of – insert hair goal – and no luck? Us, too. Until we discovered Vernon François, that is. In other words, frizz-free, lush, healthy hair. Celebrity hairstylist, Vernon François launched his namesake label in 2013 and has since revolutionized the industry. Sourcing oils from Africa, François works with local farmers via a fair-trade organisation. As a result, products are free from parabens, sulfates, phthalates, cruelty, gluten, DEA and dye! We want it ALL.
https://www.instagram.com/p/BV11eeQB2n4/?utm_source=ig_web_copy_link
Team Guinwa Recommends: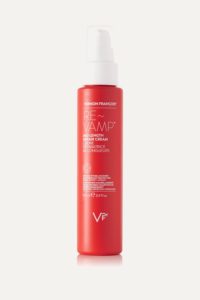 SHOP Vernon François – Re-vamp Mid Length Repair Cream, Colorless
The forementioned miracle hair product. Imbued with an active ingredient derived from castor oil, it locks the cuticles of your strands, while microscopic beads restore elasticity and strength. If your hair is bleached, permed, or otherwise damaged, this cream is your rescue. Apply it to dry or damp hair, leave it in for 20 to 30 minutes, then rinse it all out. Use it two to three times a month and thank us later!