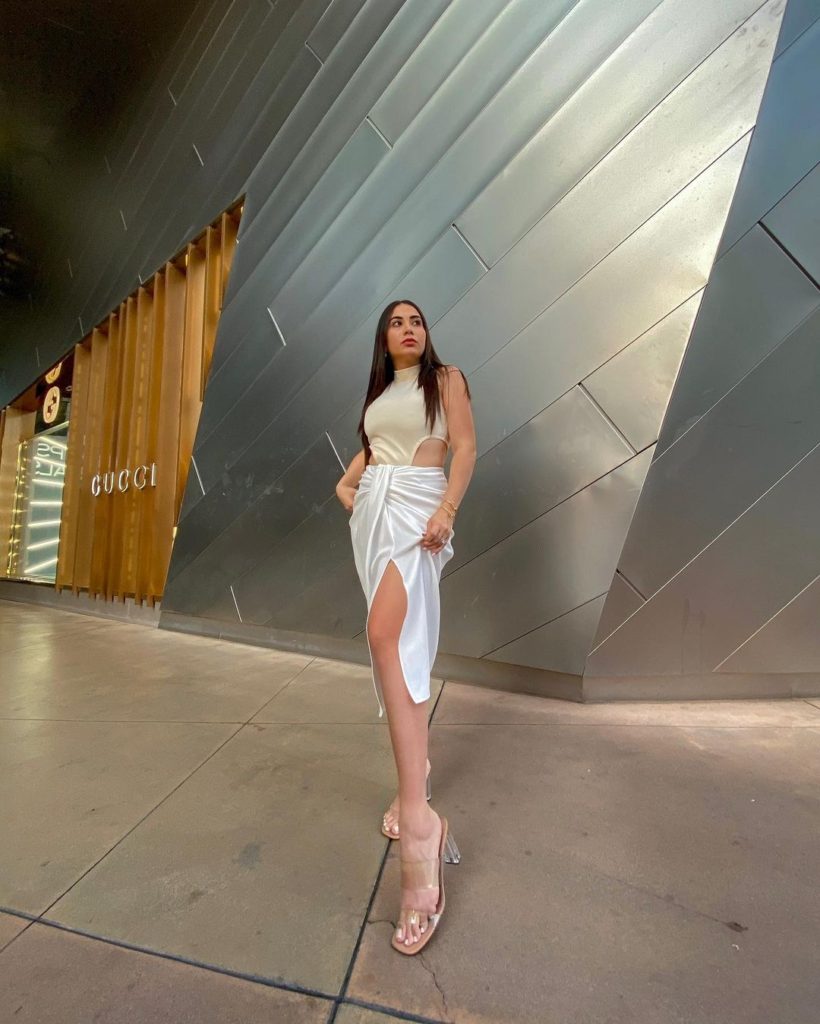 Hands up for a Zara haul! From padded shoulder tops to oversized pantsuit, Guinwa shares the budget buys to shop now and enjoy forever! That's right: this haul is all about pieces we can wear all year-round, season after season. Now, should you snatch the below items, make sure to also subscribe to Guinwa's YouTube channel to be in the know with the freshest vids! Side effects: she will sure cheer up your day!
Tops
Tucked in jeans, or knee-length shorts, padded shoulders are not to be shrugged off. More than just a trendy comeback, shoulder bold shoulders will bloom in the years to come. Guinwa opted for a satin effect top, which comes in three colours (beige, black and blue). And since it's so good, Guinwa got both beige and black. "I love the fact that not only does it have the shoulder pads, but two, it's a cropped shirt and three, it has a satin finish to it, so, it looks a little bit more luxurious than a typical white tee!"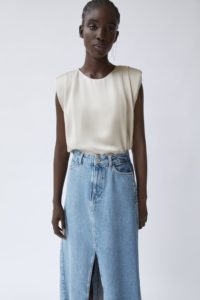 Satin Effect Shoulder Pad Top $39
A white shirt is practically the queen of wardrobe staples. Satin gets plus points – for any (much awaited) event in 2020. We're thinking Christmas, or NYE. Guinwa wore the white satin effect blouse on her trip to Wyoming. "Because, it's oversized, you can wear it with biker shorts and give it more of a causal feel. Maybe, put a belt bag to accentuate your waist. It's definitely one of those pieces that's a staple in my closet. You can get many, many wears out of it!"
You could also adjoin your wardrobe's staple white shirt with a black version.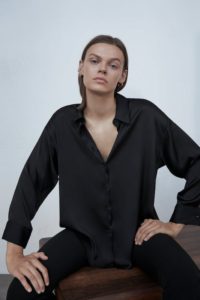 Cutout knits are dominating. Come any season, you'll be happy you got one! "It's not your regular bodysuit. It elongates your torso, especially if you pair it with low-rise pants."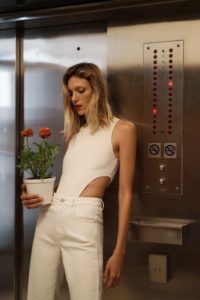 Once a trend, the puffed sleeve infiltrated our wardrobes so much so that now it's a vital piece for any season. Just like an LBD, or straight-leg jeans, it's an item that now ranks an all-time classic.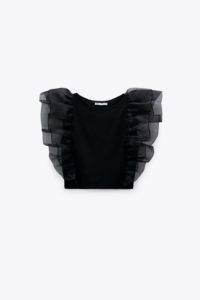 Contrasting Organza Top $25.90
The Pantsuit/ Co-ord Blazer
Just like water, sun, or air – a pantsuit is an essential (a banal simile, but you get the point). Replacing pyjamas this fall is slouchy, comfy tailoring – perfect for the office, Zoom and even after work (socially distanced) dinners. You can opt for the full set, or co-ordinate the blazer with items already in your closet similarly to Guinwa. "It is the right amount oversized. The blazer is perfect to pair with shorts, or a skirt."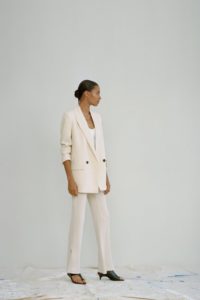 Bottoms
Dinners! Christmas! Or next year's summer trip… Options are endless with this chic, playfully knotted sparkling white skirt. "It's not see-through and has a slit that gives it more of a sexy vibe. I like pairing it up with heels, not flats as I'm 5.5. When you're 5.5 midis tend to make you look shorter. But this skirt has a slit, which does elongate your torso! And when you pair with some heels, you won't have to worry about that problem!"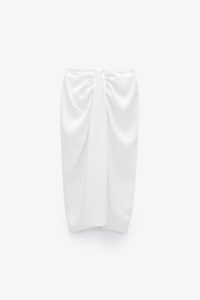 Beige pants? Don't brush it off, just yet. According to Guinwa, "They look absolutely amazing on your body! I love a monochromatic look, so I do wear these pants with the shoulder padded crop top. The length is also really good: it's not super short, or super long on me. If you're 5.5, it's perfect!"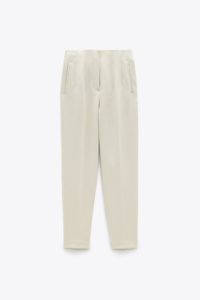 Shoes and Bags
If you live in a warmer climate, lucky you! And if not, think of these sandals as investment for next summer, or holidays during the year. "These sandals are super comfortable, nice for any beach destination, or just when I'm running errands. I like to wear open toe shoes more than close toe shoes. They're really quick for me to put on and just out of the house. It's a really nice statement sandal that I just wanted to add to my collection."
Leather Slide Sandals with Pearls $49.90
Bottega accessories are probably the best thing in 2020. But what's better is that we can slip into a Bottega inspired mesh – for a much lower price point. "The actual heel length is not that tall (3.1 inches). They're so comfortable and so trendy! A lot of people think they're actually Bottega, but they're not: they're Zara! A lot of the shoes Zara has now on its website is Bottega inspired with mesh design and a square toe!"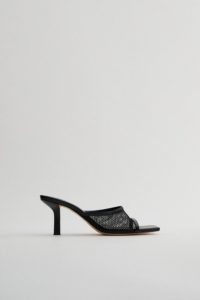 Basket bag – another chic must-have. "It comes with a really nice satin pouch. You guys can wear it for a daytime, beach inspired wedding, a bachelorette party. Really nice to have also if you're planning a beach honeymoon destination. I thought it was super cute, even though I might not be able to wear it as much during the summer because of COVID. It's definetley definitely one of those pieces that will never go out of style, so I can always wear it next summer." Pros: it also comes with a gold chain shoulder strap!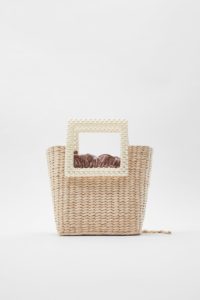 Pearl Handle Basket Bag $59.90
If you're not yet subscribed to Guinwa's YouTube channel, we just have two things to say – A: what are you doing? B: Do it now! Watch Guinwa try on the pieces here: